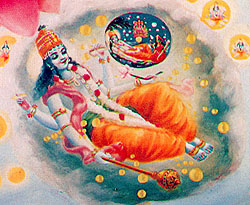 Sri-bhagavan uvaca. Now we will explain. So sri-bhagavan uvaca. Bhagavan, this word, I have explained many times. Bhagavan means the supreme authority. So far authoritative power is concerned, that is analyzed by Srila Rupa Gosvami. Cent percent power or cent percent qualification is in Krsna. Krsnas tu bhagavan svayam. There is... This is called savisesa, personal analysis, not that ...Even somebody is sometimes addressed as Bhagavan, that does not mean he is also equal to the Supreme Person. Just like sometimes Narada Muni is also addressed as Bhagavan. Lord Siva is also addressed as Bhagavan, not only visnu-tattva, but also others. Sometimes they are addressed as Bhagavan.
But in order to particularly point out Krsna, it has been said in the Srimad-Bhagavatam, krsnas tu bhagavan svayam. Krsna...
Actually, Bhagavan is Krsna because He has got cent percent qualities of Bhagavan. That is analyzed in Caitanya-caritamrta. He is cent percent Bhagavan. Others, they are also Bhagavan, visnu-tattva, Narayana, He is also Bhagavan. But Srila Rupa Gosvami has analyzed; He is 94%, not cent percent. Or, in other words, you can take it that sad-aisvarya purnah, that is Krsna. And They are also sad-aisvarya, but it is not displayed. Not that... Just like Lord Ramacandra. Lord Ramacandra... Madhva has approved, He, also Bhagavan. Ramadi-murtisu kala-niyamena tisthan [Bs. 5.39]. Lord Krsna, the Supreme Personality of Godhead, is existing as the Supreme Person along with Rama, Nrsimha, Varaha, many thousands of avataras. They are also Krsna. Kesava dhrta-rama-sarira jaya jagadisa hare. Kesava dhrta-mina-sarira jaya jagadisa hare. So Kesava, Krsna, He is existing with all the incarnation, not that He is existing as Krsna. So when we speak of Krsna, we take it that all His expansion and incarnation.
Therefore it is said ramadi-murtisu kala. They are kala. Kala means partial expansion, not full expansion. Full expansion means purna. So they are also Bhagavan. But krsnas tu bhagavan svayam means bhagavatva, the authority of Bhagavan, is fully expressed in Krsna, not in others. Therefore in the Srimad-Bhagavatam it is said... After making the list of different incarnation, it is summarized that ete camsa-kalah pumsah krsnas tu bhagavan svayam: [Bhag. 1.3.28] "All these incarnations mentioned," ramadi-murtisu kala-niyamena tisthan [Bs. 5.39], "they are partial expansion and expansion of the expansion or expansion of His power, saktyavesa-avatara."
Just (take) Lord Buddha. He is saktyavesa-avatara. Many saktyavesa-avatara. So in this way Krsna is always existing along with His expansion and incarnation. But the real original Personality of Godhead is Krsna. Krsnas tu bhagavan svayam. Therefore Bhagavad-gita is being spoken by Krsna. But in order to distinguish Him, Vyasadeva is writing sri bhagavan uvaca. He does not say, sri krsna uvaca just to make it distinguished that krsnas tu bhagavan. So we are pledged to receive knowledge from the Supreme Personality of Godhead. That is our mission, Krsna consciousness. Here is knowledge given by Krsna. Idam tu te guhyatamam pravaksyamy anasuyave. "Now I am giving you this knowledge, very confidential knowledge." Guhyatamam. Guhya means confidential and guhyatama, more confidential. Comparative, superlative. Positive, comparative and superlative. Guhya is positive. Guhyatara is comparative. And guhyatamam. So this brahma-jnana, Brahman, is guhya, is very confidential because if you achieve brahma-jnana, immediately you become the most important person within this material world. Brahma-bhutah. Brahmana. And brahma-bhutah means above brahmana or brahmana. So that is guhya. Guhya means confidential. To become brahma-bhutah, brahma-jnani, that is guhya.